The Asian and Pacific Islander Roundtable envisions the emergence of coalitions and networks of API LGBTQ and API allies across the country that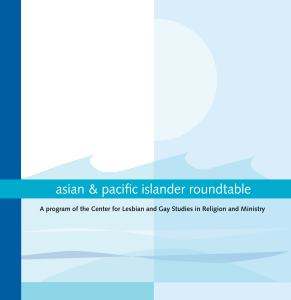 affirm the dignity and spiritual wholeness of API-LGBTQ people of faith.
In order to empower and resource such coalitions and networks, the API Roundtable is focused on mobilizing and supporting pastors/church leaders, academics, and community leaders that are committed to producing resources and spaces that promote this vision.
We have created a curriculum that integrates sexuality, ethnicity and religion for the API community. We also hold film screenings/discussions of "In God's House" and hold workshops on "Building An Inclusive API Church" in partnership with the Network on Religion and Justice for API-LGBT People and the Reconciling Ministries Network.
We partner with and support API LGBT organizations and API LGBT individuals and allies within churches and faith communities. The API Roundtable works especially closely with the Network on Religion and Justice for API-LGBT People.
Organizations we have partnered and collaborated with in the past include the Network on Religion and Justice, API Family Pride, Gay Asian Pacific Alliance (GAPA), API Equality – Northern California, TransThrive (API Wellness Center), The Asian Pacific Islander Queer Women and Transgender Community,  National Queer Asian and Pacific Islander Alliance (NQAPIA), and the National LGBTQ Task Force.